Sign up for the
GFS E-Mail List

Hosted by MartNet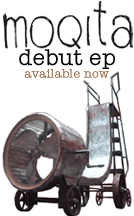 GFS News
01/11/2009
GFS Productions Projects
We're still filling orders in our store and here's what the GFS crew is currently working on: J.Smooth - J.Smooth + Three 4 Tens (guitar)

JG - Pink Skull + Moqita

Billy Blaise - Man Man + Moqita

06/02/2007
J.Smooth playing guitar in the Three 4 Tens
Check out J.Smooth playing guitar with the Three 4 Tens:

Video here:
I am the King

All the Pretty Girls

05/04/2007
Moqita - It comes to Me - available now on Beatport.com
Check out Moqita's "It comes to Me" available now on Beatport.com

Moqita on Beatport

07/01/2006
Billy Blaise from Moqita touring with Man Man
Billy Blaise of Moqita has recently joined the group Man Man and has been touring with them all summer. Check out their webpage at wearemanman.com.

03/02/2006
New Moqita on Om Lounge 10


The Moqita song "No More Sand In My Lip Balm" is featured on the new compilation CD "Om Lounge 10" on Om Records.


It's available now on the iTunes music store
and was released on CD in stores everywhere on February 21st. Check out http://www.omrecords.com/ for more details

02/14/2006
Pink Skull Record Release Party - 02/18/2006
THE PINK SKULL RECORD RELEASE PARTY!!!

THIS SATURDAY FEBRUARY 18TH, 2005

@ The Khyber
56 S. 2nd St. (bet Market and Chestnut on 2nd)
Philadelphia, PA

10pm-2am

Come celebrate the release of the pink skull LP "Blast Yrr Ack" and the new 12" single "Unicorn Harpoon" on Sound Ink/Tone Arm Records
DOWNSTAIRS:

SPECIAL LIVE GUESTS:
V.I.P
YA MOS DEF
SWEATHEART

UPSTAIRS:

VERY SPECIAL GUEST DJ'S:
OPTIMO (from Glasgow, www.optimo.co.uk)
Support by:

JULIAN S. PROCESS & DAVE P

$10.00 gets you into the entire club
For more info, sights and sounds: www.igetrvng.com

Check out this new DJ mix by Julian S. Process here:
http://www.pinkskull.com/mp3/mixes


10/18/2005
New Moqita release on OM Records Nov 1st
Moqita will be appearing on the new release "OM: DISCOVERY - DOWNTEMPO Volume 1". It's an online only release that will be available November 1st on digital music websites including iTunes, Napster, Rhapsody, MSN, Yahoo and Beatport. Keep checking Om Records or your favorite online music store for more details.

10/06/2005
Pink Skull Record Release Party Friday - 10/14 Fluid Nightclub
EXPLODER. [Click] 4 year anniversary party
Come celebrate the release of Pink Skull's new record "Blast Yr Akk" in Tone Arm Records
Pink Skull is Julian S Process, Ian St. Laurent, and JG of GFS

DJ's for the evening: Dave P- Julian S Process - Ian St Laurent

It's rave theme, so get your glowsticks and Vicks out!


Friday October 14th, 2005
Fluid Nightclub
613 South 4th Street
Philadelphia, PA

05/19/2005
Moqita Live @ Silk City Friday May 27th
Moqita is playing an all house set at Silk City at the Philadelphia Experiment on Friday May 27th. They've got some new songs and some live favorites and plan to rock the dance floor as best as the possibly can at the finest house monthly in the city (6 years running!) See the Moqita Tour Section for more details.

02/06/2005
Friday March 18th WIRED feat Keaton, Hive, Moving Fusion and more!
WIRED

click here for the flyer

King's Barcade
424 South McDowell St
Downtown Raleigh, NC

GFS Productions present a Drum & Bass showcase featuring...
The Violence LP Tour...

KEATON
Violence Recordings:Refuge:Usual Suspects
Original Usual Suspect, former member of Universal Project and Renegade Hardware with more dancefloor anthems than most, he's sure to bring the ruffness. Keaton is currently locked in the studio with Hive, Gridlock and Echo cooking up a debut LP for Violence Recordings. Do not miss your chance to catch the new tunes live from the Suspect himself!

HIVE
Violence Recordings:Refuge
One of America's biggest D&B superstars, brings the heat with his unique tune selection and mixing skills. Appearing with his partner in crime, Keaton. The pair continue to collaborate beats together and proudly stand behind their tracks Death Threat, Resolution and The Plague. It has been their latest offering Bring It On that has thrown them in the limelight.

Plus RAM's...

MOVING FUSION
RAM Records:Lift'n Spirits
With a history of anthems under their belt such as The Beginning, Brainstorm, Lazy Bones and the ever popular stormer, Turbulence, Moving Fusion is known as one of the hottest talents in Drum & Bass. Gracing us for their second King's appearance, they bring the latest stormers from the RAM Records lab.

OUTBURST & SEVERE
Illstreet
Two favored local talents opening the evening up.

$15 before 11pm/$20 after
FREE Appetizers & FREE Pool
Drink Specials All Night


424 South McDowell St, Raleigh, NC
919.831.1005 or www.ncdnb.com
www.kingsbarcade.com

01/21/2005
New J.Smooth Remix available on iTunes
Check out the newly released J.Smooth Remix of Aubrey's "If you don't know me by now". Sick stuff drum and bass madness. It's available on the iTunes Music Store and will be available on vinyl and cd soon.

01/03/2005
Happy New Years from GFS!
We just wanted to wish everyone a happy new year! This should be an exciting year for GFS, with new releases coming from J.Smooth, GFS, and Moqita. Also look out for the return of new parties from GFS in North Carolina brought to you by Rune. If Reunion was any indicator, this is going to be an amazing you for drum and bass events in 2005!

11/04/2004
REUNION - Saturday, December 11th, 2004 - RALEIGH, NC


Saturday, December 11th, 2004

REUNION

Click here to view the flyer
King's Barcade
424 South McDowell St
Downtown Raleigh, NC

GFS Productions present
a Hip Hop, Funk Soul, Drum & Bass showcase featuring...

TECH ITCH
Tech Freak:Tech Itch Recordings:Penetration:Freak
Truly a one of a kind Drum & Bass dj and producer of choppy, dark, amen tracks. With over 20 successful releases including the anticipated Destruction Ritual LP, Tech Itch continues to keep his style unique.

J.SMOOTH
GFS Productions
One of the pioneer djs and producers of Hip Hop and Drum & Bass fusion. World renowned for his funky sets of Drum & Bass filled with original produced materials, soulful vocals and ill scratching abilities.

BASIC OPERATIONS
Advanced:Renegade:Freak:Innerground:Rinse & Repeat
With releases on top industry labels, remixes for Dieselboy, collaborations with Holdtight, Evol Intent and Mathematics; Basic Operations holds it down for 2004. Sirus joins us for a heavy set not to be missed.

SAPIEN
Proper:Crowd Control:Rinse & Repeat
An old school King's favorite opens the evening up.

$15 Entry 9pm til 3am
FREE Appetizers from Wholefoods
FREE Pool & Drink Specials All Night

424 South McDowell St, Raleigh, NC
919.831.1005 or www.ncdnb.com




10/19/2004
Moqita Live @ Fluid Thursday 10/28 with DJ Spooky and King Britt
More Details to Follow... Thursday October 28, 2004
8pm - closing


DJ Spooky - that subliminal kid
DJ Spooky "weaves cultural and temporal streams together to create a vivid, shifting tapestry of flow. In so doing he stakes a powerful claim to the democratising powers of the mix." - BBC

"Morphs subtly between hip-hop abstraction and unalloyed free-improv exploration." - Entertainment Weekly

King Britt
"King Britt has dead cool taste. Featuring mantroniz-sized wooshes and dancefloor textures that track the deadly space from disco to House, Britt's productions are clean and impressive. Like necking in the back seat of the Delorian from Back to the Future." - The Wire (UK)

"A swirling fantasia of feel-good funk." -Entertainment Weekly

Moqita
"Imagine blending your moms jazz records with some of Greyboys beats, throw in some Philly soul flavor and dont forget the beatboxing flute and some live Wurlitzer keys. Moqitas live act is a combination between JGs knowledge of musical gadgetry and Blaises stunning self-taught musical ability to play the flute and piano at the same time. Yes, he only has two hands, but you'll have to see that for yourself." - Around Philly.com

Location:
Fluid
613 S. 4th St.
Philadelphia, PA 19147

Regular tickets: $7 online, $10 at the door.
http://www.concertsforchange.org/kintera_show.php?id=55




09/18/2004
Moqita Live @ Fluid Thursday 9/30 w/ J.Smooth


This is the big one. We're playing at the finest little club in Philadelphia and preparing special show just for this night. We're pulling out all the stops for this one. We'll start out with our usual smoothed out downtempo cuts and then ramp it up in the second half with a house flavored funk-fest. I mean, c'mon, like we're going to play Fluid and NOT rock the dance floor?!? Bring your dancing shoes and your drinking glasses... it's going to be a par-tay.

But wait, there's more! Also appearing will be special guest vocalist Ashley Thomas (she sings on 'round the way') and guest scratching and cutting from superstar DJ, and our main man, J.Smooth. Smooth will also be dj'ing a funky ass set to start out the night and our favorite house DJ, Carl Michaels, will closing it down with his trademarked brand of ass shaking beats. We'll be sandwiched in the middle like some sorta soulfunk sandwich.

We're also giving away tons of FREE cd's and other Moqita stuff so don't miss this show!

Details:
Thursday, September 30th - 10:00pm-2:00am
Fluid - 613 South 4th Street - Philadelphia, PA
Admission Price: $5
FREE CD's all night long



08/31/2004
Merge One Year Anniversary
The Merge Crew, GFS Productions, and Panther present the Merge one year anniversary
Wednesday, September 15th
with:
Fierce quarantine | virus | metro | london uk Merlin/Shade panther | merge | 4-4 records Mango/Phobia Rune gfs productions | rusted bolts

For more information and flyer click here

08/02/2004
MP3's available through Beatport.com


Now you can get older, out of print, GFS songs plus NEW releases at beatport.com. We've gotten a good chunk of our back catalog up now and we have new releases on the way, inlcudings some upcoming exclusive MP3 only releases. Check out the site now to see if your favorite releases are up.
Here's some quick links:



06/28/2004
Moqita Live Show
We just wanted to say thanks to everyone who came out to the first show of Moqita last night. It was a big success and a lot of fun. Also, special thanks to Ginny and Jen and the entire staff of RX for making it such a memorable night.

06/20/2004
New J.Smooth Project underway..
In additon to the J.Smooth's newest release, Midnight Mix Sessions Vol 2 and a new mix coming in the next few months, there is also a new mix in the works. This mix CD will be a huge step in Smooths ever advancing musical journey and a natural progression in his production career. This CD will contain all original J.Smooth productions, some which have been released, and many others that are only being heard at the events he plays nationwide. It's artist album that shows his production talents, mixed together to showcase his abilities as a DJ. Look out for this and an exciting full live band coming from J.Smooth this winter.

06/13/2004
Moqita Debut Live Show 6/27 at RX
Moqita will be making it's debut live performance with a small show at RX (4443 Spruce St - Philadelphia). It goes from 9-11pm on Sunday June 27. RX is a incredible restaurant and food will be available. BYOB. We'll have copies of the new EP for sale too

06/12/2004
New Moqita CD available
Moqita has released a new 6 song EP. You can order it here or in our GFS online store

05/27/2004
The new Midnight Mix Sessions Vol 2 now available
The newest J.Smooth cd, Midnight Mix Sessions Vol 2 is now out! Pre-orders are shipping today and it's available on our web site and in stores now. This cd is more of what you'd expect from our resident funk master, J.Smooth, so pick one up today. Also, this one's track separated, so no more fast forwarding to your favorite song. Another cd will be following in the next few months so look out for that too. Midnight Mix Sessions 2 and all of the other J.Smooth mix CD's are availible in our online store.

05/26/2004
Pink Skull
Pink Skull is the house project from JG (of GFS), Julian S. Process, and DJ Diabolic. Quirky weird psycedelic house and other-worldly sounds. New album coming Fall 2004 on Sound Ink Records. Check out the website www.pinkskull.com for free mp3 downloads and mixes.

04/15/2004
J.SMOOTH Djing the Quannum Tour 4/16/04 @ Electric Factory
Quannum Tour Details

Electric Factory Philadelphia, PA April 16, 2004 - 07:30PM EST

Blackalicious
DJ D-Sharp
DJ Shadow
The Gift of Gab
Joyo Velarde
Lateef & The Chief
Latryx
Lifesavas
Lyrics Born
J.Smooth
Opening Set: JG as the hip hop juke box?

for more info go to http://cc.com/event_detail.html?eventID=78146

03/31/2004
Billy Blaise Show and Philadelphia Weekly article
"Days on End"
Fri., April 2, 6­10pm. Free. Spartaco Gallery, 52 N. Second St., second fl. 215.238.8877
www.spartacogallery.com Billy Blaise and his brother Steven have a gallery opening at Spartaco Gallery. Check out the article in this weeks Philadelphia Weekly. The web article is here. Pick up the paper if you live in Philly though. There's a huge cover photo of the two of them in the arts and entertainment section.

03/15/2004
2 NEW JSMOOTH MIX CD's coming soon!
Finally there is a new J.Smooth Mix CD (still untitled) coming soon for all you loyal and new fans out there. The CD contains many J.Smooth original productions featuring Philly Vocalists such as Ashley Thomas and Club House Diva Aubrey Ayala. As the last track- a rare hiphop remix produced by Smooth and JG which was supposed to be realesed by BadBoy Records but never was. The CDs should be available for shipping in a few weeks so keep posted if you are ordering.
Also available is a previously recorded limited edtion J.Smooth "Midnight MixSessions 2" Mix CD!!! Get both of these amazing mixes and of course all your other favorites from the ordering section of this site.

03/12/2004
JG Spinning retro rock set at The Khyber Tuesday 03/23
On Tuesday 03/23/04, JG of GFS will be spinning upstairs @ The Khyber (56 South 2nd Street) in Philadelphia w/Kevin Gimble and Jamie Morris. Also spinning are residents Intrinsic and Art Cubik. Expect lots of diverse cool music and post modern hits that you haven't heard in a long time. Stone Roses, Skinny Puppy, New Order, Transvision Vamp, etc..

02/10/2004
J.SMOOTH WMC Event Details!!!! Keep posted for more info!!!!!!
Yes Sir- Once again, Ladies and Gentlemen, J.Smooth will be representing the GFS sound for his 7th Year straight at the Winter Music Conference in South Beach (Miami) Florida!! And yes there will be many gay men in speedos there for those who are into that kind of atmosphere but.............. Smooth will surely be seeking out the Women in very skimpy bikinis. The rest of the GFS Crew (JG, Billy Blaise, Mark Candidi) will not be attending so Smooth will be sure to consume more than enough alcohol and Viagra -(the Viagra wont actually be neccassary because we know he's fully functional on his own natural stamina, but it is a funny thought) and... he will also make sure not to forget,.. but to carry with him, naked baby pictures of the rest of the GFS crew in his wallet to show people when they ask.
Be sure to Check out his apperances throughout March 6th-10th. There will be various performances which as of now include:
March 6th- a special Turntablist appearance @ the Massive Ultra Event which is scheduled all day and all night!! Smooth will be showing his skill on this stage and also giving a little run down to the fans on the art of Djing and his personal experiences in the Scene. (unfortunately we are sad to inform that these will not be stories of his highly interesting encounters with the Ladies, and any Stalkers will be escorted off the premises immediately; Excluding the highly likeable and friendly Dj NightStalker from Los Angeles who doesnt fall into this fanatical category)
March 7th- A daily Boat Cruise hosted by Phillys one and only JPP Crew docking @ 3pm Sharp!! get there early so you can get on the boat for there are limited entries. the cruise is from 4-8pm.It will feature other talented Philly artists and also many talented Djs from the US and UK. There will also be a bar with a large quantity of alcohol, and who knows what other kind of entertainment is in store. Some of us remember what little amounts of clothing was worn by a large amount of strikingly hot women on last years Stuck on Earth boating event! More Dj/ Event info will be posted for the cruise soon enough so keep your eyes pealed.
March 8th-Get ready for another HipStep Massive Party @ Lounge 16- Come see TC Izlam and Crew to check Smooth's set at this Funk Filled event and then over to Jade Lounge for his set @ 2am!
March 8th- Smooth will hopefully return from the HipStep Massive Party in one piece to perform (2am set time) @ Jade Lounge located @ 1766 Bay Rd for Day 2 of the Gathering of the Tribes. for more detailed info on this event which goes on all week please check out www.cluby2k.net because there is way too much info to list here.
-there will also be more J.Smooth WMC Event info to come in the next few weeks, but also be sure to catch him on the beach in his speedos if you can. (umm, no not really....sorry but that probably wont happen. he doesnt even have a speedo..... but..... maybe if he's drunk enough, he will borrow someones. haha)

02/10/2004
New exclusive J.Smooth mix available for download now!
This set was Recorded at the 7th Anniversary party for Camouflage, the long running jungle party at Guernica in NYC. Download the full hour set HERE.

01/29/2004
Upcoming DJ appearances from JG 01/29 and 02/04
JG of GFS/Moqita will be playing two dates in the upcoming week:

This Friday January 30th, Do something to help the less fortunate... Luckilly, you can drink and dance while you are at it... BRRRRR! featuring the dj talents of Willyum, Kevin V, Carl Michaels, Jason Leroy, Josh Devins, Jamie Johnson, Matt Brownell, Matt Wich, Aaron & DJ Dirty, Julian S. Process, Dave Pee, Jamie Morris and JG
La Tazza, 108 Chestnut Street Come early and drink a lot! $5 Minimum Donation goes directly to the Greater Philadelphia Food Bank www.greaterphiladelphiafoodbank.org 9:30-2 door by evan 'the philanthropist' lee
Also, on Wednesday February 4th JG will be playing ambient and spacey indie rock at Hologram @ La Tazza (108 Chestnut Street Philadelphia). Also appearing will be his old pal Mr. Roper of alien robot/Submit fame.

12/18/2003
J.Smooth at Platinum Tonight 12/18
For all you Philly area folks, J.Smooth will be playing at one of his favorite places, the world famous Platinum at Fluid. Fluid is at 613 South 4th Street in Philadelphia and doors open at 10. Platinum residents will also be playing and, damn, it'll be a night of hometown drunken mayhem! Come out and have a blast.

11/06/2003
Billy Blaise Gallery Show at 1026 11/07/03


Mokita - A show by Billy Blaise Dufala:

You might know Billy Blaise as a GFS contributor and Moqita member, but in addition to being a talented multi-instrumentalist, he is also a talented visual artist and sculptor. This Friday(tomorrow), November 7th at Space 1026 in Philadelphia is the opening night for Billy's solo gallery show. His signature giant metal sculptures, strange art prints, and short films will be on display throughout the month of November. The event will also be catered by Billy himself, as he feeds attendies part of the art from his show(?) You'll have to see it to believe it. JG will also be rocking the lounge music on his laptop for the audio entertainment. So come and check it out. You can get a sneak preview of his work with these photos from his 2002 show, http://www1.martnet.com/~jmfg/photos/Billy_Show_2k2/ and on the Moqita website: http://moqita.com/

Friday November 7, 2003
Time: 7PM
Space 1026
1026 Arch Street
2nd Floor
Philadelphia PA 19107
http://www.space1026.com/



10/15/2003
WKDU Electronic Music Marathon this weekend
Check out the Annual WKDU Electronic Music Marathon, starting Thursday October 16th at 6pm until Sunday October 19th at Midnight. JG will be watching over the dj's from 5am-8am and spinning from 8am-9am on Friday morning. For more details or to listen to the live stream, check out http://www.wkdu.org/

08/16/2003
New J.Smooth CD's
Finally, "Enter the 37 Chamber" and "How do you like your Funk" are now available in double CD format. Replace your tapes with the newly remastered versions. Each title comes as double CD. Look out soon for a BRAND NEW limited edition CD coming from J.Smooth, available only on this site and at select parties and club events...

07/14/2003
New web site from Moqita
Moqita is a new group by GFS members, JG and Billy Blaise. They're nearing completion of their new CD and they've just put up a new website with some mp3 clips and other stuff. Go to it

06/04/2003
New funked out GFS DJ set available now
Free download! GFS (J.Smooth and JG) did a 30 minute mix for Beat 106 in Scotland of old and new school funk. It's available now as an mp3 download or stream the Real Audio version. Funk-y. Check it out.

05/31/2003
GFS DJ set at the Royale in Brooklyn - Friday 06/06
JG and Billy Blaise from GFS and Moqita along with J.Smooth (who was originally unable to perform) will be kicking the funky jams at the Royale in Brooklyn NY, Friday June 6th 10PM till 3:00AM (or maybe later). All funk, no filler, your favorite underground funk hits and rare grooves from the 50's, 60's, 70's, 80's, 90's, 00's,10's, 20's, etc.

The Royale
506 5th Ave
Btwn 12th and 13th
Park Slope, Brooklyn, NY

05/11/2003
Pay Pal now accepted at the GFS store
We've made some changes over at the GFS Online Store and we're now using Paypal to accept payments. You can still order with credit card just as easily as before, but now you can also use the flexibility of PayPal to get all of your favorite GFS products.

04/28/2003
Review of Mount Vernon Street in WYWS
While You Were Sleeping Magazine

GFS- Mount Vernon Street
For all you Jungle/Drum and Bass heads who were born yesterday, J Smooth has dominated the electronic scene for the past couple of years. The album is a hit, and not just for Jungle fans. With an ingenious mixture of instruments, from an upright bass to a violin with a sax somewhere in the middle, and with the familiar sound of J Smooth on the tables, keys, guitar, and some bass, the Phiily-based crew hits on all cylindars. It's nice to hear an album that mixes funk riffs with both hard hip-hop and fast-paced jungle. A highly recommended album and I'm not even a big Jungle/Drum and Bass fan.

- Eytan Shandler

03/07/2003
The Rifle Choir live at the Kyber
Check out "The Rifle Choir" the new band featuring GFS bass player, Mark Candidi. They're playing Friday March 7th at the Kyber in Philadelphia on 56 South 2nd Street. Show starts at 9PM. Check it out and get your rock and roll on!

02/13/2003
GFS Featured in the Philly City Paper
Check out this article about us in the Philadelphia City Paper. Written by non other than uber music journalist, Philly legend, and judge of the Philly version of American Idol (hehe) AD Amorosi, it pretty much covers the history of GFS from day one to now. Pretty cool stuff.

01/22/2003
Record Release Party at Liquid Blue on Thursday 1/30/03
To celebrate the release of our new cd, we're having a release party at Liquid Blue on 622 S 6th Street in Philadelphia. Spinning will be J.Smooth and JG along with our pals, Sean O'Neal(Flowchart,Sound Gizmo and Willyum (PSC, Worship)

01/21/2003
Mount Vernon Street in stores now!!!
Holy crap! It's out!
The debut GFS full length "Mount Vernon Street" on Sound Gizmo Audio. It's available now at major stores world wide, courtesy of Ryko Distribution. You can also order online from our online store or even at major online stores like Amazon.com

01/18/2003
Review of Mount Vernon Street at allaboutdj.com
"Mount Vernon Street" received an excellent review at allaboutdj.com. Read all about it here

01/10/2003
On the Block Hustlin now available on CD
With the release of our debut album Mount Vernon Street less then 2 weeks away, we decided to add a new treat to our catalogue. The world renowned J.Smooth mixtape, On the Block Hustlin, (aka "The Blue Tape") is now available on CD. Order here!

12/30/2002
J.Smooth Video Clips at Digital Dose
Live video clips featuring J.Smooth, Freaky Flow w/ MC Flipside, and DJ Craze at Digital-Dose.net

11/30/2002
J.Smooth mixtapes now available on CD!
The J.Smooth mixes Soul and Return of the Galactic Philly Funk Jedi are now available exclusively in our online store. They are presented as a double CD package (one disc for each side) for only $12. More CD's will be made available in the next few weeks so keep checking the site for more details.

11/25/2002
Welcome to the NEW gfsproductions.com!
We're redesigning the site from the ground up, so we can offer new music and and cool information that will be updated frequently. Check out the features of our brand new site including:

New Music section
You can now listen to tracks, mixes, and exclusive DJ sets in our new music section. It's now database driven which means you can quickly and easily search through all the audio. Audio samples are available for almost every track in our discography plus sets from the GFS dj's and archived sets of top DJ's from past GFS events. Also available are exclusive mp3 downloads of unreleased and forthcoming tracks!

New Ordering section (and SALE!)
All tapes and vinyl ON SALE for only $7! Other item's have also been reduced and shipping is free! The order page is tied into the database, so you can listen before you buy.

New Events section
See the small events listing on the upper right hand side of this page? Check out all you favorite GFS Dj's and where they'll be playing in our super organized expanded events section.

What is it that you people do again?
Find out about all the projects that we're working on and all the cool stuff we have coming up.

Well, damn, we can go all day. There's even more changes on the way as we continue to upgrade the site and add new features.

Any suggestions on what we can do to improve the site? Check out our contacts page and let us know.

04/11/2002
New J.Smooth live set online
Listen to J.Smooth spinning at Primordial on Vibe Flow internet radio Check it out on RealAudio or MP3 streams.

04/01/2002
GFS PLAYING LIVE in New York City, Friday 4/26
Check out J.Smooth, JG, and Billy Blaise kicking it live with a special Dj/Live performance set at Deprogramme @ OPENAIR 121 St. Mark's Place NYC. They'll be playing a dope set of new tracks, funky beats and live instrumental manipulation. Also playing will be resident Sound Gizmo bitchboy, Nick Cain. For more details, check out soungizmo.com

04/01/2002
GFS - The Player/Mad Style Out now on Sound Gizmo
GFS - "The Player/Mad Style" Out now on Sound Gizmo
The new 12" from GFS out now! Check your local record store! This single is a precursor to the loooong delayed Mount Vernon Street CD, so get a taste now...

03/01/2002
GFS - Regret - featured In our lifetime Vol. 1 on Fenway Recordings
A track from the forthcoming GFS album "Mount Vernon Street" has been included on the new compilation "In Our Lifetime" on Fenway Recordings We're on a indie rock comp! Sweet!

12/31/2001
GFS 2001 News Archive


Argento Recording003 Out Now!
Argento 003, Jo-S "Blisterpack"/"Spitball"
You might know Jo-S from his sick releases on Rawkutts and Higher Education, but we got the tweeky acid flavor of "Blisterpack" ready to go for Argneto 003. On the flipside, there's "Spitball" with the arpegiatted synths and the superduper subs.

Koldfront "Fallen"/"Celcius" 611dnb003
Holy Shit. Look out for these guys. A sick debut release. Both tracks are serious anthems and are only a taste of what's coming in the future

The Return Of Slick, Winter 2002!
Type One "Doubtlove"/"Doubtlove" (GFS Remix)
The long awaited return of Slick Recordings comes correct with a brand new artist, Type One. Coming straight outta the great white North of Halifax, Nova Scotia, Canada, Type One has given us one nice slab of chill, soulfull, funky sounds. This one will have a GFS Remix on the flip and is expected to drop this winter. Look out for more from this promising new artist.

Streaming Live Sets Now Available!
J.Smooth Live In Tokyo & Marcus Intalex @ Kings
Now your favorite King's moments can be re-lived plus many other exciting mixes for your ear hole. Coming soon are sets from: Bad Company, Total Science, DJ Lee, Rune and more! So keep checking back every few weeks for more sets.

New Releases For June 19th, 2001
J.Smooth "Jeckyll and Hyde"/"Z Chamber"
Some manufacturing delays caused this to be a little late, but here it is. Two slammin new tracks from J.Smooth on Argento Recordings. Pick 3 or 4 up today!

DJ Sine/Brian Darc "Revolver"/"Masked"
Platinum resident DJ Sine comes correct on the 611dnb label with stomping beats of "Revolver" and hot off the heels of his Elite Release "Weapon X", Brian Darc is taking no prisoners with this one. Boh! (er something...)

Celebrate J.Smooth's Birthday With Us!
Come one, come all. Drop a few drinks, get your swerve on and join us June 28th, 2001 at Platinum in Philadelphia to help ring in another year for the Smooth one. Oh, forgot to mention, he is spinning too.

News - April 18th, 2001
GFS T-shirts now available!
High Quality Silkscreened T-shirts with the GFS logos available in Black, Gray, Navy Blue, Baby Blue and Pink.
Check out the designs here: Front | Back. Order them here.

J.Smooth's Latest Mix CD, Available Now!
Midnight Mix Session by J.Smooth of GFS
Also check out the "Return of the Galactic Philly Funk Jedi" mixtape.

Argento Recordings 002 Coming In May. Promos Out Now!
Argento 002, "Jeckyll & Hyde"/"Z Chamber" J.Smooth of GFS
No jokin' dark, hard, serious business from the Smooth one. "Jeckyll and Hyde" is a relentless assault on the senses. Featured on the new Freaky Flow mix CD on Moonshine. The flip side is Drum & Bass like you've never heard. Beats like Photek, vibes like Mozart. Get it in May or else...

Also releasing in May, 611dnb 002!
"Revolver" by DJ Sine/"Masked" by Brian Darc
2nd one up for the 611dnb label, this time around from DJ Sine (hot off the success of his releases on Elite Recordings) and another one from Brian Darc (also an Elite alumni). Philly representing once again for the 215 dnb sounds.

NC Events On Hold Til August...
Stay tuned... In the meantime, look out for the upcoming events webpage with all our past event info, fliers and live mix sets from the shows, including Dj Lee, Total Science, Daniel, Luna, Marcus Intalex, Future Cut, Konflict, Bad Company and more. Plus special mix sessions from the GFS crew, J.Smooth and Rune.

Credit Card Ordering Now Online!
We now accept credit cards at the GFS online store!
With a partnership with www.CCnow.com, we can now accept all major credit cards. Orders will be quicker and more efficient than ever and you will be able to see what we have in stock at all times. You can still order by check or money order by using our handy printable (.pdf) order form on the ordering page.

News - March 8th, 2001
Argento Recordings 002 Promos In Circulation Now!
Argento 002, "Jeckyll & Hyde"/"Z Chamber" J.Smooth of GFS
What's this? A Dark Bassy tune from the funky scratch master himself? Fuck what you heard, J.Smooth takes you DARK and HARD for his first Argento release, "Jeckyll & Hyde". GFS, always keeping you guessing. On the flip is "Z Chamber" an epic dnb number with live violin, deep bass, and sick beats. This song is so emotional, it was used in the Real World during a roommate fight scene. (Ha!, Ha!) Seriously though, it really was. This song will also be on our upcoming full length. Check out a preview on our Singles Vinyl page.

Event - March 3rd, 2001
What's My Code? Another GFS success on the party front!
GFS and Mathematics would like to thank everyone that came out and supported us that evening. All the djs were very impressed with the crowd's response and vibe, that was said to have matched the european feeling. Total Science, Bad Company, Eternal and Kiko had an incredible evening and left with a sense that the Triangle knows what's up with Drum & Bass. A party is nothing without the positive people and support that was shown duing the night. Without you, we would still be on the curb listen to the mixtapes...

Please feel free to post your reviews or email us comments and suggestions to rune@gfsproductions.com.

Special thanks go you to JG, Joe, Daniel, Matt and Jen, Luna, Nam, 0-Nation, Jason, Jenny and Sonicboom, Jen Solo and Solo Dojo crew, Eric, Karen and the SMC crew, Thad and Jerry for keeping things in check, Atlas Lighting, all the people that helped with promotions, anyone I forgot, and finally the wack ass graffiti writers that tagged my bathrooms up. Thanks alot for that one, I appreciate the extra time and money I have to put into cleaning and repainting the men's room. Next time you decide to graffiti my club at least wait and practice until your skills are tuned. My grandmother could have done better with a crayola crayon...

News - January 25th, 2001
Credit Card Ordering Now Online!
We now accept credit cards at the GFS online store!
With a partnership with www.CCnow.com, we can now accept all major credit cards. Orders will be quicker and more efficient than ever and you will be able to see what we have in stock at all times. You can still order by check or money order by using our handy printable (.pdf) order form on the ordering page.

New J.Smooth Mixtape Finally Out!
J.Smooth "Return of the Galactic Philly Funk Jedi" Mixtape
So, it's here now. We have them. Stupid factory delays, grrr... All backorders have been sent and we ready for any new orders! Check out a preview on our Mixtapes page and then pick it up at your favorite record store. Or order it at our new online store!

Slick Recordings Hits The Store Fronts!
Slick 001, "Spacefunk"/"Tribute" GFS featuring J.Smooth & JG
The newest funky jams from the GFS crew. "Spacefunk" is the funky bass, Rhodes piano jam that'll get your feet moving and "Tribute" is the banging new school homage to the sounds of the old school. Check out a preview on our Vinyl Singles page. Pick it up in a local record shop now or (did we mention this before?) in our new online store!

Argento Recordings Due Out Early February.
Argento 001, "Spy Hunter"/"Kill Dash Nine" JG of GFS
First up from our new sci-fi futuristic label are two new ones from JG. Spy Hunter is the funky rocker with the arpegiatted synth line and "Kill Dash Nine" is like a steamroller to your bassbins. Check out a preview on our Vinyl Singles page.



12/31/2000
2000 News Archive


Future Releases For The Year 2001...
We have new singles coming soon from Rob F & Impulse, Koldfront and more. Check us out as we expand our label to showcase the newest Drum & Bass talent in the US.

November 22nd, 2000
GFS on MTV!
Keep your ears open for the latest GFS tunes on all your favorite MTV shows. So far, we've had songs on The Real World, Total Request Live, and Road Rules. The Acen Remix of "Titanium" was even featured on the commercial and as the theme music for the MTV Sports and Music Festival 4! Whoa! And JG's dating Britney Spears! (or maybe not...)

November 10th, 2000
GFSProductions.com voted one of Philly's Best Websites!
The City Paper voted our site as one of the best music sites in Philadelphia Check out the article here at CityPaper.net

October 24th, 2000
New J.Smooth Mixtape Just Around The Corner!
The funk soul brother, J.Smooth is back again with his latest mixtape "Return of the Galactic Philly Funk Jedi". This young master is definately shining with the force and this tape has got the licks to prove just that. Available early November in your local stores or order it from us online. For a RealAudio sneak preview: Click Here

October 16th, 2000
Upcoming New Releases
11/14/00: 611drumandbass
JG of GFS - "Change"/"Change"(Karl K Remix)
Brand new label focusing mainly on the up and coming dnb scene in Philly. (Oh yeah, and JG runs the label too!) First release is "Change" with a Karl K remix on the flip. Look out for releases from DJ Sine, Brian Darc, Koldfront and J.Smooth.

11/28/00: Slick 001 - GFS Funky Style
GFS - "Spacefunk"/"Tribute"
Who got the funk? GFS. "Spacefunk" is the tricked out live jam - pimpin' style. "Tribute", you know the new dark drum and bass tunes that sample old rave classics and make them all evil and stuff? This isn't one of them. Its a freakin hands in the air raveola DnB jam! Wasn't DnB supposed to be fun?

01/16/01: Argento 001 - GFS Inta Tha Future
JG - "Spy Hunter"/"Kill Dash Nine"
First up from our new sci-fi futuristic label are two new ones from JG. Spy Hunter is the funky rocker with the arpegiatted synth line and "Kill Dash Nine" is a steamroller to your bassbins.

Febuary 2001: Sound Gizmo
GFS (feat J.Smooth and JG) - "Mount Vernon Street" 8 track CD
GFS (feat J.Smooth and JG) - "The Player"/"Mad Style" 12" single
Oh yeah, did we mention we finished a full length CD??? Look out for the FUNK of "The Player"/"Mad Style" single to accompany our 8 track full length, "Mount Vernon Street" This album lets us branch out on ideas we wouldn't normally put on the dancefloor. And we made most songs "listener friendly" so you don't have to wade through the "DJ Friendly" junk that makes most Dnb songs so long and drawn out.

Soon to come...
Samsara - "Tuning Out" (GFS Drum and Bass Retune)
We just finshed a remix of RuffNation artists, Samsara. Look for it in a store near you.

For a RealAudio sneak preview of all these tracks: Click Here

Upcoming Mixtapes:
J.Smooth "Return of the Galactic Philly Funk Jedi" mixtape
Yep. First new mixtape from J.Smooth in over a year. And, oooh yeah, it's worth the wait.

Rune "Night Calls" mixtape
Rune's first professional mixtape under the GFS Crew, bound to be loaded with the hottest tracks on the blackmarket.

October 16th, 2000
Things To Mention...
People are always bugging us about old tracks that we aren't ever going to release on vinyl. (like we dont have enough records that arent out yet!) So we put them up with some of our new releases as MP3's at epitonic.com. Check it here: www.epitonic.com

Web Updates as of Mid-October
About 10 new Real Audio Tracks for your listening enjoyment located here and some updated info. More to come in the next months including a larger gallery, event section, live Dj mixes and more.

Thursdays 9pm til Midnight
JG's new radio show on WKDU
Catch JG's new radio show every other Thursday. Don't expect too much D&B, because this show is all about getting back to your musical roots. He'll be playing punk, indie, ambient and maybe a little 2 step and jungle. (if you're nice) Look out for special guest dance music dj's, playing NON-dance music. If you dont live in philly check out the 56K speed mp3 stream at www.wkdu.org.

September 26, 2000
New 611 Drum & Bass Label
Philadelphia's leading dance music store has just expanded its record label with the addition of the new label 611drumandbass. The first release floating around on promo now is a track by JG called "Change" with a remix by Karl K of Injection2012. This label will begin by focusing on the newly emerging Philadelphia D&B producers but will be accepting demos from all American arists. For more info check out http://www.611dnb.com/ or check our real audio clips in the vinyl upcoming tracks section.

February 8, 2000
GFS Productions releases for Y2K.
Here's the run down of what to expect in early 2000 for all the newest GFS releases.
Fuzzy Box-(JG's Remixes): Out Now!
GFS-"Titanium"(Acen Remix): 03-21-00
GFS vs. Flowchart-"Kartaffel"
A new J.Smooth mix tape!
The "Elusive" J.Smooth mix CD
January 5, 2000
Happy New Years from the GFS Crew!
Hope everyone had a great and safe NYE. You will notice a few changes on the GFS site. Over the next week or two we will be updating information and adding some better navigation to surf the music and gallery better. Note: Most updates require a 4.0+ browser and Java enabled.



12/31/1999
1999 News Archive


December 17, 1999
GFS and Epitonic.com - MP3 mania!
If you're one of those MP3 loving people, you can now download MP3's of the J.Smooth tracks released on the GFS Productions label at www.epitonic.com. We're giving them away for free so start downloading and enjoy the sounds you never got to hear 'cause you don't have a record player!

December 7, 1999
GFS Productions preparing for Y2K.
All the newest GFS releases won't be coming out until after new years but here's the run down of what to expect in early 2000.
GFS-"Titanium"/"Titanium"(Acen Remix)
"The Lab"/Tleilaxu-"Soma"(JG's Remixes)
GFS vs. Flowchart-"Kartaffel"
A new J.Smooth mix tape!
The "Elusive" J.Smooth mix CD
New RealAudio for your listening pleasure.
We just put a TON of new RealAudio files up of almost all of the forthcoming GFS singles, remixes, and a couple of teaser sample tracks from the J.Smooth mix CD. So take a listen and look out for more surprises including RealAudio DJ mixes for the year 2000.
October 26, 1999
J.Smooth & Carl Michaels funkdafied Deep!
Aces High in association with GFS Productions and 611 Records presented "DEEP", Oct. 25th at King's in Raleigh, NC. All the Djs represented top notch and threw down some of their best performances. Carl Michaels & J.Smooth dropped the illest Philly funk and got the house shak'n. Thanks to all who came out and supported the vibe. Deep 2 coming soon.
October 15, 1999
J.Smooth & Carl Michaels in Raleigh, NC
Aces High in association with GFS Productions and 611 Records present "DEEP", Oct. 25th at King's in Raleigh, NC. Our one and only Dj Rune is hosting this one. Come out, drink a few brews and get down with the illest funk, philly style.
October 7, 1999
Benefit at Club Space Saturday Oct. 9th!
Tena McLarty is (finally) turning 21! Come out and party this Saturday, Oct. 9th, at Space-953 N Front Street, Philly. Tell the door girl Celeste that you're there for my party, she'll let you in for $8. The party is for charity, half of the door will go to CARE, an organization that provides relief and development internationally. As an extra incentive, I'll make ya a drink (since I'm finally legal). Hope to see you there and if you want to, contact me at cmclarty@clam.rutgers.edu.
-Tena
PS-feel free to pass on the invite to friends.
New single on F-111 from GFS Productions
Starting off the millenium, there will be a new GFS single, "Titanium", on F-111 Records. A little bit harder and darker then you'd expect from GFS. This MEAN track is already making the rounds on dubplate from coast to coast. Also, on the flip , is a remix by a brilliant UK producer who is returning back from his "trip to the moon" to bang out a what will be a slammin rework. We're not tellin who it is, but see if you can figure it out...
New Freaky Flow and J.Smooth Mixtape
Toronto's jungle bad boy and Philly's funk master have just released a new mixtape called, "Back2School". We would describe it, but what's the point? You know it's going to be the BOMB! Check for it at your local record store or pick it up at 611 Records Online.
Trans Magetti @ WKDU band bash Oct. 9th
You can catch the Trans Magetti (featuring GFS bassist Mark Candidi) at the WKDU band bash Saturday, October 9th. They're playing with Ink & Dagger, Frodus, and a bunch of other bands. For details check out http://www.wkdu.org/ or call 215-895-5917. This will be their last show before their European tour in November, so don't miss it!
October 6, 1999
GFS Newest DJ addition, Suiko
We now yet another addition to the GFS DJ force. Suiko (aka Kelly) is formerly of Athens, GA and has recently moved to Philadelphia. Her style is hard, fast, and well, down-right EVIL. A longtime friend of the GFS, we are proud to include Kelly in our squad. You can catch her this Friday 10/8 and also 10/22 at Club Space in Philly. This brings our drum and bass roster to four now with our all-star cast of J.Smooth, Sukio, Rune(of N.C.), and the elusive JG.
September 3, 1999
Catch GFS live at Silk City, September 4th!
GFS will be proforming live at Silk City in Philadelphia. It will be a live jam session featuring JG, J.Smooth, Mark Candidi, Bill Dufala, Steve Dufala, and a host of others. We will be bringing you the funk with live guitar, bass, drums, key, rhodes, saxophones, trumpets, turntables, and whatever else we can find that will make a noise. A little bit a Hip-Hop, Drum & Bass, Jazz, and a whole lotta fun. So come out this labor day weekend to Grass, and throw a few back. Joe's paying! (just kidding...)
Silk City
5th and Spring Garden in Philadelphia
Grass starts at 9pm and goes till 2am
We go on at 11pm but come early cause the more drunk you are, the better we sound...
August 24, 1999
J.Smooth mixtape "Soul" is back in stock!
The out of print J.Smooth mixtape, "Soul" has been repressed. All the hip hop/jungle madness you remember and even the nifty little cartoon picture of Joe on the cover. Order here.
GFS "The Player" on new JNCO mix CD.
"The Player" a new track by GFS (featuring J.Smooth and JG), is on the JNCO promotional mix CD "Commitment Mekanizm". "The Player" is just a taste of what's in store for the upcoming GFS full length on F-111/Warner Bros. Interesting note: This track features four members of the original GFS lineup including Mark Candidi on bass, Bill Dufala on the Rhodes, and Joe Candidi (a.k.a. J. Smooth) on guitar.
Mark joins "The Trans Maghetti".
Mark, our always exciting minister of entertainment and sometimes bass-playing guy, is now contributing his bass skills to the emo-hardcore type band, "Trans Maghetti". Their previous releases on Art Monk Construction are incredible and from the sound of their live shows, the new stuff is even better.
Carl Michaels new mix CD.
Our favorite house DJ, Carl Michaels, has a new CD out on 611 Records. It's called "Disco Dub House" and it has some of the most rockin funky house you can find on plastic. It's available now through 611 Records or at stores nationwide in about a month. You can also check out Carl and his crew's site at www.phillysoulcollective.com.
August 12, 1999
J.Smooth not appearing at "Countdown 8"
Due to a scheduling mix up, J.Smooth will not be appearing at "Countdown 8" on Saturday, August 21st as it appears on the flyer. He will be appearing at "Narnia" in Los Angeles that night. The booking was never confirmed and was not due to scheduling fault or double booking of ours. Also, this is in no way meant to disrespect Pauly or anyone at Sympty Productions. They are good people and this was just a simple miscommunication. We just figured we'd let everyone know now before the rave rumours start. Thanks.
July 30, 1999
Join our Mailing List
Would you like to know what's going on with GFS Productions, including new projects, releases, dj schedules, and updates? Send us your email address using the button on the left.
July 17, 1999
"Come With The Realness" available now.
Check out the newest GFS Productions' single featuring J.Smooth & JG with special guest vocals by Mis-Ty. Look for it at your favorite record store or order it here.
July 16, 1999
Welcome Back!
Hello and welcome to the all new GFS website. We have decided to keep it simple but hope will lend a little more information on a more timely basis. To help with this approach, the site is more focused on us and our label. The events section was cut. There are other promoters in Philly that do a great job with events. We felt they would serve you better. Check out our new links pages including drum & bass, music related and misc. for all your electronica needs. Our audio section is now a little more descriptive and is now known as our discography section with mixtapes and vinyl. Check out our current and forthcoming releases on our GFS Productions label here. The gallery section is now automated so you can check us out more often looking like idiots in various parts of the country.
May 28, 1999
J. Smooth and Freaky Flow wreck havoc at Whistle 2
Whistle 2 took place at the New Jersey Expo Center. With a huge crowd and temperatures reaching 100 degrees plus... J. Smooth and Freaky Flow spun and incredible set. I'm not sure if the heat was due to the crowd or their talent.